Preliminary
With the name of Allah, the All-Merciful, the Very-Merciful. All praise is for Allah, Lord of the worlds; and peace and blessings be upon our master, Muhammad, his family and companions.
Through the Grace of Allah Most High, I once again had the pleasure of visiting Norway – one of the most beautiful countries of Europe. I've been visiting this Scandinavian country since 2007 – this was my 13th or 14th visit – and had the pleasure of meeting local Muslims. My first, in 2007, occurred upon the invitation of the Muslim Students Association (MSA) at Oslo University and, in particular, Dr Mudhakkir Amin, who was studying at the university in those days and was the head of the Association. My dear friend from Manchester (UK), Dr Zakariya Goga (who also was a student of medicine at Manchester Metropolitan University in those days), accompanied me during that trip. I delivered various lectures; the main lecture was held at the MSA Conference on the university campus. The following year, in July 2008, I visited again. On this occasion, I attended a knowledge-based spiritual retreat in a cottage, which the brothers had hired up in the mountains, north of the Capital Oslo. My two friends from Slough (UK), Dr Zubayr ibn Abbas and Rida ibn Sha'ban, accompanied me during that trip. Approximately 25 brothers participated in the retreat. We covered the basics of belief (iman/aqida), jurisprudence (fiqh) and spirituality (tazkiya) – coupled with sightseeing, fishing, swimming and other activities. Brief accounts of both visits (2007 and 2008) were penned, at the time, by Dr Mudhakkir Amin of Oslo, and can be read here: "Knowledge-based Spiritual Retreat with Mufti Muhammed ibn Adam al-Kawthari in Norway, 2008", and "Mufti Muhammad ibn Adam's trip to Norway in May, 2007".
After these two initial trips, I visited Norway repeatedly – almost every year. The majority of the visits took place upon the invitation of the youth-led Al-Hidaya organization. During these visits, I delivered lectures at various masājid/mosques and Islamic Centres, as well as taught courses/workshops on marriage, parenting and other subjects. The stand-out visit, for me, occurred in 2012 when – after attending a da'wa convention in the capital Oslo – we toured northern parts of Norway and witnessed areas where the sun does not set during certain months of the summer. We travelled by air to the city of Trumso and, thereafter, undertook a road journey for approximately ten hours, all the way to the northern tip of Norway, called North Cape. My dear friend, Shaykh Abdur-Rahman ibn Yusuf Mangera, was also on this trip. He has penned a very interesting account, which should hopefully be released sometime in-shā Allah.
As for this current visit, it occurred upon the collective invite of various mosques and Islamic organisations in the Norwegian cities of Bergen, Stavanger and Sandness (my first visit to these cities). However, the main instigator was my dear friend, Waqqas Mustafa of Oslo. The duration of the tour was three days (23-26 February, 2023). My last visit took place in 2018 (before the Covid 19 Pandemic) and, thus, I had not visited for nearly five years. It was decided that I visit the cities of Bergen and Stavanger, on the west coast of Norway. I had been predominantly visiting the capital Oslo in all of my previous visits and, therefore, we decided to visit Bergen and Stavanger this time around. Brother Waqqas contacted the various mosques and Islamic organisations in those cities and arranged my various lectures. I have known Waqqas for many years. He has great concern for the dissemination of traditional Islamic knowledge in Norway, ma shā Allah. He keeps himself connected to sacred knowledge (ilm) and the people of knowledge (ahl al-ilm). May Allah reward him abundantly and bless him and his family. Āmīn.
Departure to Oslo
I travelled via a British Airways flight on Thursday February 23, 2023, from London Heathrow Airport to the Norwegian capital city of Oslo. Although I was scheduled to spend the next three days in Bergen and Stavanger, we felt that one evening should be spent in Oslo – in order to meet, and catch up with, some old friends whom I had not met for a while.
I landed at Oslo Airport around 8pm local time. My host for the evening, brother Danial Sheikh (whom I have known for many years), and two local imams/scholars, Shaykh Ridwan Dawud and Shaykh Asim Dawud, received me at the airport. Shaykh Ridwan is a graduate of the Jāmi'at al-Ilm Wa 'l-Huda Islamic Seminary in Blackburn (UK) and currently serves as an imam and teacher in Oslo. He appeared to be talented and learned, with great zeal for and good understanding of Islamic disciplines ma shā Allah. The various discussions with him in the car from the airport, and also during dinner, were insightful. His brother, Shaykh Asim, also serves as an imam and is a teacher at the Qur'an School in Oslo. May Allah bless both of their efforts. Āmīn.
We reached brother Danial's house. His family had prepared a delicious healthy meal – consisting of salmon, vegetables and other items. After dinner, a private gathering (majlis) took place at his residence. Approximately 25 brothers had gathered. It was a joy to meet some old friends, and some others for the first time Al-Ḥamdulillāh. In attendance was the previously mentioned Dr Mudhakkir, Sufyan El-Barkani (whom I have known for many years through his dedication and work for the Al-Hidaya organisation), Abu Bakr (Al-Hidaya organisation), Mufti Amān al-Haq (a young scholar whom I was meeting for the first time, and who accompanied me throughout my tour for the next few days), and many others whose names I can't recall at the moment.
After a short Qur'an recitation, I was asked to share a few words of advice with the audience. With tawfiq (enablement) from Allah, I discussed the importance of love and brotherhood in Islam. I explained that being a practising Muslim does not always have to be about rivalry, fighting, attacking others, arguments, anger, and harshness. One can be gentle and respectful, and also loyal and firm on one's beliefs – at the same time. I advised them to engage in da'wa in a positive manner, inviting others to the dīn with good preaching and wisdom. A questions and answers session followed and, thereafter, the very beneficial meeting came to an end. I gifted the brothers a copy of my two recently published books (travelogues): Two Weeks in Pakistan and A Trip to the Land of Scholars and Saints. Thereafter, I bid them farewell and retired to bed.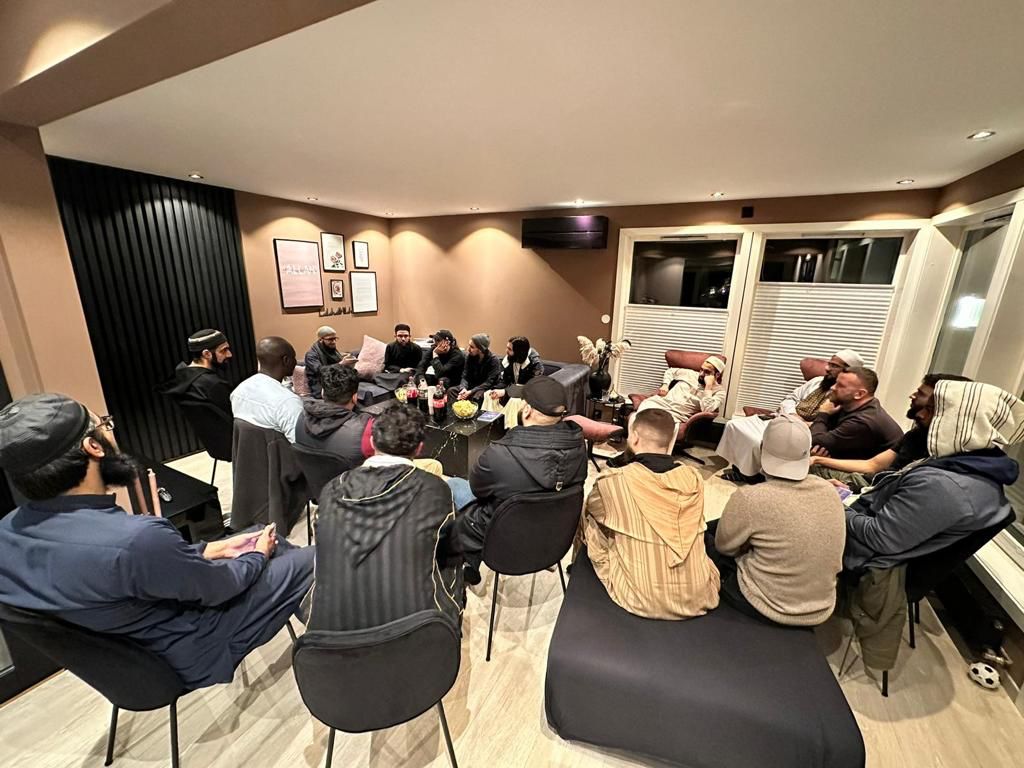 The next morning (Friday February 24, 2023), I woke up at Fajr to beautiful snowy forest and trees around us – it had snowed heavily overnight. Danial's house is located on a hilltop, next to a forest. As we emerged out of his house, after a light breakfast, we saw the entire surrounding area covered in beautiful white snow, including his car. It was indeed a sight to behold. After clearing up the snow off his car, brother Danial drove me to Oslo airport. The drive, on roads flanked with giant snow-filled rocks, was awe-inspiring.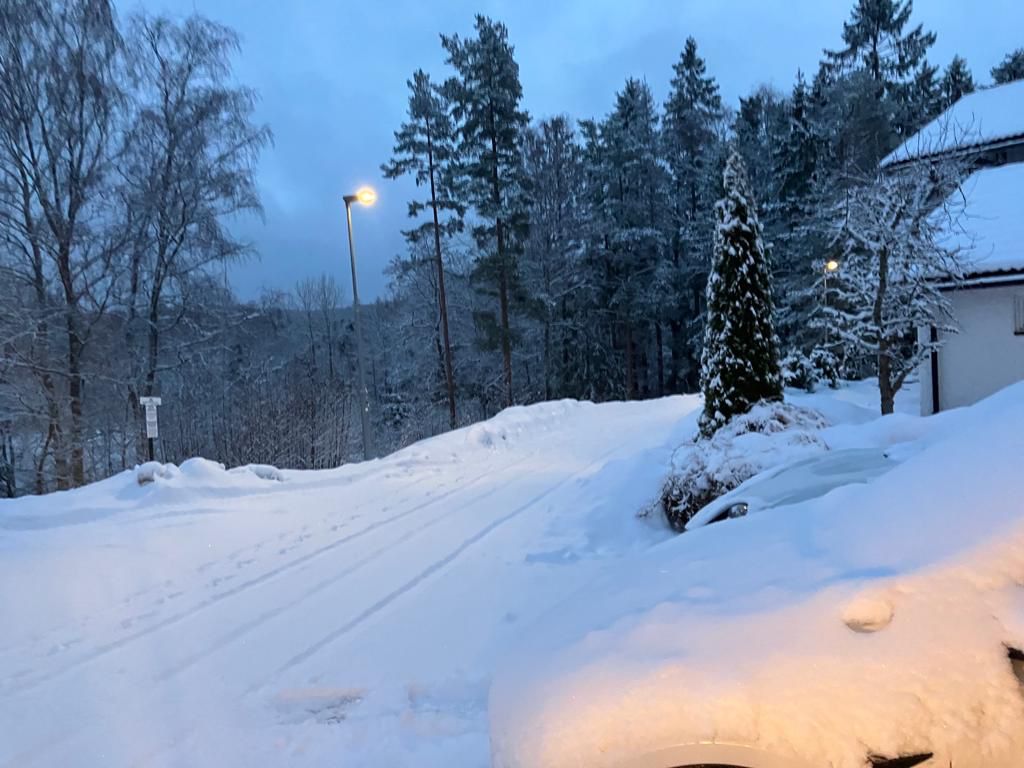 The flight to Bergen was scheduled at 9am. The previously mentioned Shaykh Amān al-Haq joined me at the airport and accompanied me during the next few days in Bergen and Stavanger. Of Bangladeshi origin, Shaykh Amān al-Haq was born in Bergen and raised in Toronto. He completed his dars nizāmi at Jāmi'a Ta'lim al-Islam Seminary in Dewsbury (UK) and, thereafter, studied the fiqh specialisation (takhassus/iftā') course at Markaz al-Da'wa al-Islami in Dhaka (Bangladesh) under the supervision of Shaykh Abd al-Malik (a student of Shaykh Mufti Muhammad Taqi Usmani). He currently serves as an imam at Madani Masjid in Oslo. I was meeting him for the first time. In my interaction with him throughout the trip, I found him to be a person of sound knowledge, understanding, balance, wisdom, humility and other noble characteristics. May Allah enable him to serve the dīn in Norway. Āmīn. Due to wintry weather conditions, our flight from Oslo was slightly delayed. As I glimpsed out of the window before take-off, I couldn't help but notice vehicles circling the aeroplane and spraying de-icing fluid on the wings. Despite being a frequent flyer, this was my first experience of witnessing the de-icing process.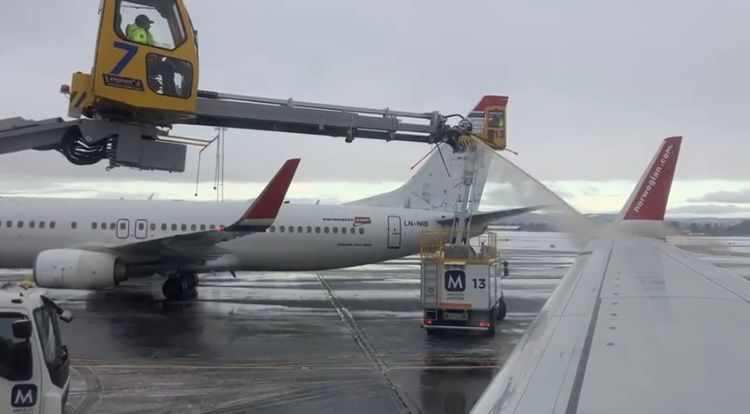 After a flight of approximately one hour, we landed at Bergen Airport at 10am Al-Ḥamdulillāh. Upon descent, I saw (from the aeroplane window) a bit of snow here too, but much less than the snow in Oslo. We flew over small islands just prior to landing in Bergen. Brother Waqqas Mustafa of Oslo (who, as previously mentioned, was the main instigator of this visit) – along with his 15 year old son, Adam, and his colleague, Safwan (whom I became accustomed to calling sufi sahib) – had arrived the night before in Bergen in anticipation of my visit. They received us at Bergen Airport. As we emerged out of the terminal building, we were greeted with a massive Bergen sign with a question mark "BERGEN?" located on a rocky wall, opposite the airport. The question mark added a suspicious air, as if the airport wasn't sure if it really was located in Bergen, or it made the passengers think for a moment whether they have landed in Bergen or some other city. I later learned that the question mark is intended to invoke a sense of curiosity and anticipation of what can be experienced in the region.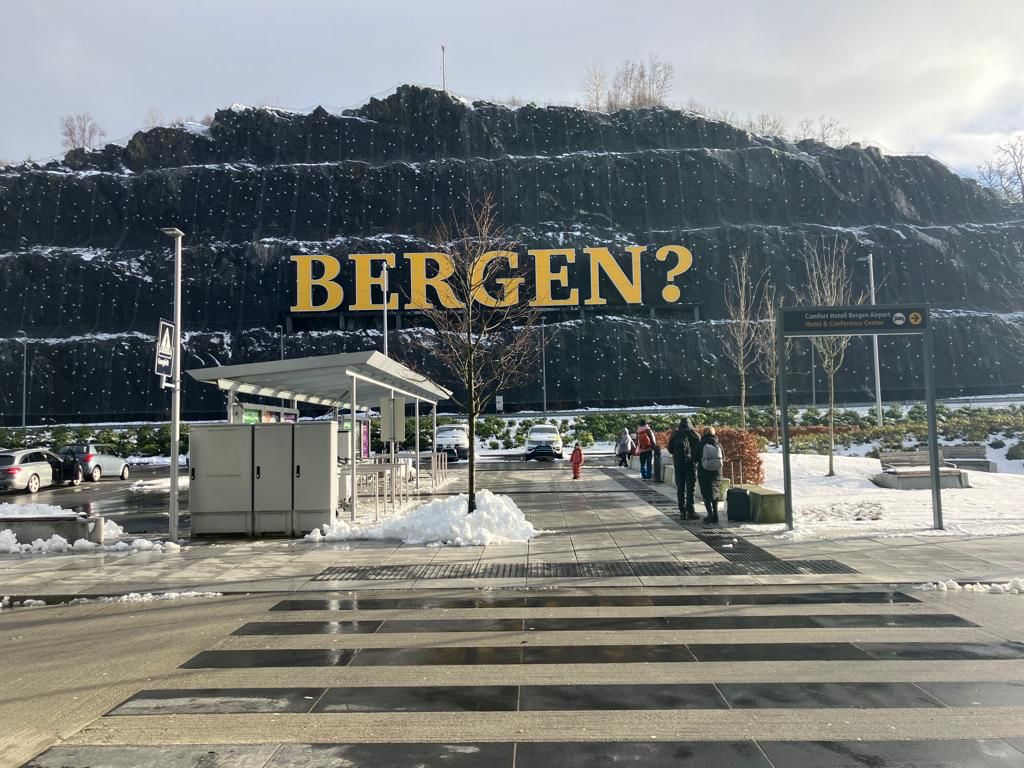 Bergen
Bergen is a city on the west coast of Norway and the country's second-largest city after the capital, Oslo. It is referred to as "the city of seven mountains" due to it being surrounded by seven mountains and fjords. Many of its extra-municipal suburbs are on small islands. Four large bridges connect Bergen to its suburban municipalities. Bergen has seven mosques, with many Muslims hailing from Turkish, Somali, Kurdish, and Pakistani descent.
Jumu'a Khutba – Bergan Mosque
From the airport, we headed to the lodging house where Waqqas and the others had booked to stay. The location was very scenic, ma shā Allah, and boasted some beautiful views of snowy mountain tops. We had brunch, rested for a while and then freshened up Jumu'aprayers. I delivered the khutba and led prayers at the main Bergan Masjid (Bergen Moské). The topic of my khutba was taqwa, in which I explained the meaning of taqwa and how one should maintain taqwa in every aspect of life. I clarified that taqwa refers to being mindful, before every verbal statement and physical action, that one will be answerable to Allah in the Hereafter. I used "sale" as an example, quoting the first few verses of chapter (sura) 83 in which Allah Most High says, "Woe to the curtailers who, when they measure something to receive from people, take it in full, and when they measure or weigh something to give it to them, give less than due. Do they not think that they have to be raised up, on a Great Day? The Day when all the people will stand before the Lord of the worlds?" (Qur'an 83: 1-6).
After Jumu'a, we briefly met the imam, Shaykh Abdiladif Abdullahi Ahmed, who is of Somalian origin. I found him to be very pleasant and dedicated to his work. May Allah accept his efforts. Āmīn. We then undertook a short sightseeing tour of Bergen – enjoying stunning views of mountains, hills, rocks, greenery, rivers, lakes, bare/deciduous forest trees and evergreen trees. The traditional colourful wooden houses, built on mountain tops and hills, amplified the beauty of nature. Despite being very cold and the remains of the fallen snow, the weather was very pleasant with sunny blue skies, which made the experience even better, Al-Ḥamdulillāh.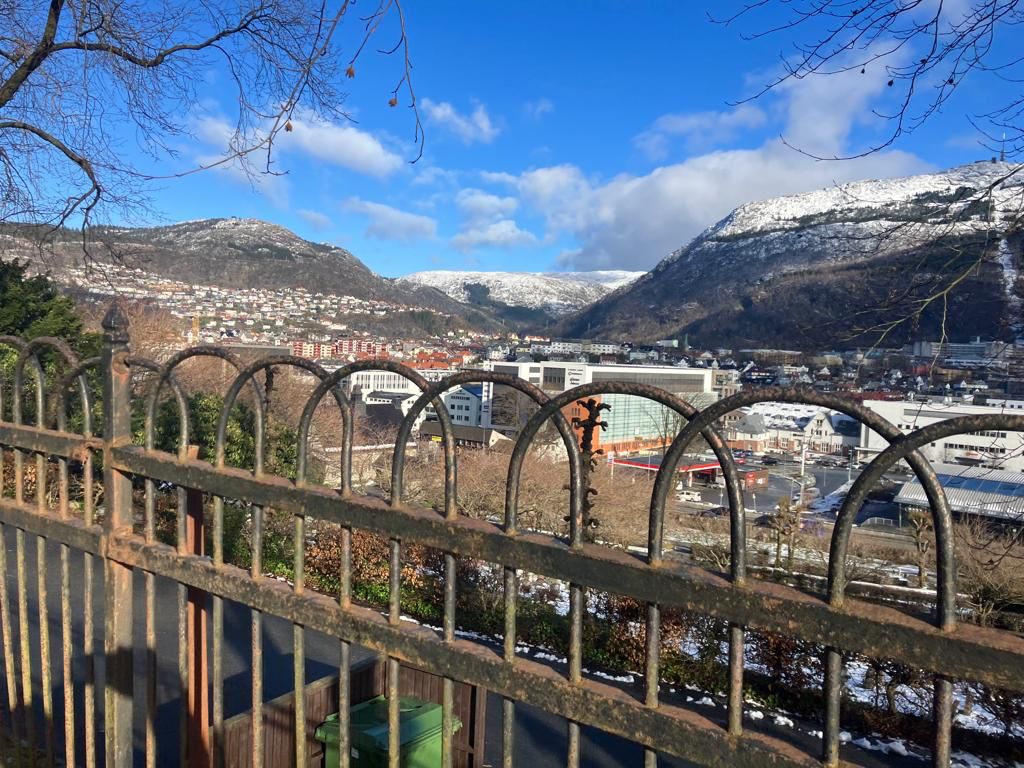 After the short tour of the city, we headed to the hotel, in the centre of the city, where my hosts had booked me a room to stay in. I checked into the hotel and took some rest and performed Asr before the evening program.
Evening Lecture at Bergen University
Just prior to Maghrib prayers, we departed the hotel for the same Bergen Mosque – a few minutes away from the hotel. The imam instructed me to lead prayers. Thereafter, we headed to the university. The mosque (masjid) and university are adjacent to each other; hence, we only had to walk for a few minutes. The short walking distance between the mosque and university is ideal for the Muslim students, and it seems the students are connected to the mosque. The aforementioned imam of the mosque is also respected amongst the students and often guides them on Islamic matters. Given this, it was no surprise that my lecture, on the topic of marriage, was organised jointly by the Muslim Students Union (MSN) and Bergen Mosque. The imam also attended the lecture and delivered concluding remarks. The turn-out was great, as the young students enthusiastically filled up the lecture theatre seats. May Allah reward them. I spoke about acquiring the quality of taqwa before, during, and after marriage. An extended questions and answers session followed, which indicated their thirst and desire to learn about their dīn. May Allah bless them, and us, with beneficial knowledge and grant us the ability to act in accordance with it. Āmīn.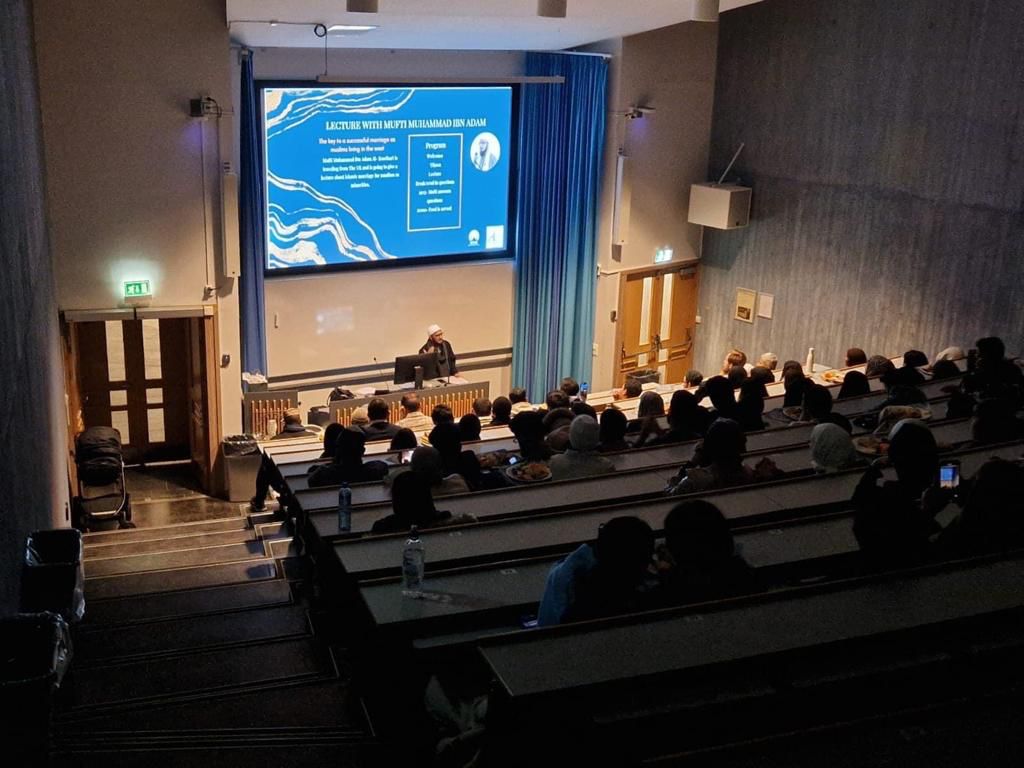 After the event, our local (Bergen) hosts took us out for dinner at a nearby restaurant, owned by a Muslim. It was great to sit and have dinner in the company of Brother Waqqas and his colleagues, Shaykh Amān al-Haq, the imam of Bergan Mosque and his colleague, and discuss various issues relating to Muslims and Islam in Bergan. After dinner, I returned to the hotel for much needed rest.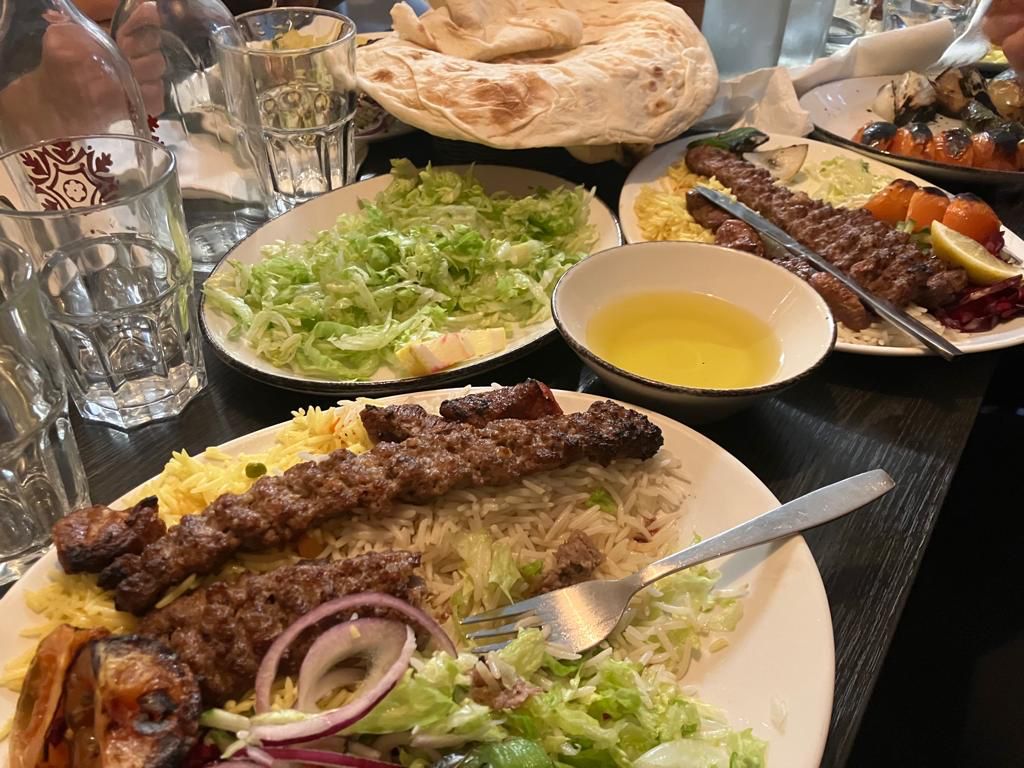 The following morning (Saturday February 25, 2023), we undertook a long four to five hours road trip, along Norway's west coast, from Bergen to Stavanger (another major city of Norway). Travelling in two cars, our group consisted of the aforementioned brothers (Waqqas Mustafa and his son, Safwan/sufi sahib, and Shaykh Amān al-Haq – all of Oslo), as well as brother Roy Amin who, after attending my lecture at Bergen University, decided to join us. Roy Amin is a revert Muslim of mixed ethnicity. His father is Algerian and his mother Norwegian. I found him to be a pleasant, intelligent and Islamically-enthusiastic individual. His company for the remainder of the trip was much enjoyed. May Allah bless him and grant him the good of this life and the next. Āmīn.
Despite being cold it was a sunny day with clear blue skies, and the drive was very scenic and pleasant. We were treated to stunning views of natural greenery, rivers and lakes, long road tunnels below the sea, iconic sights, deep blue fjords, and rugged mountains. There were two ferry crossings along the way which provided a break from driving. We parked our cars and took our seats in the ferries. However, rather than sitting on our seats, the time in the ferries was predominantly spent walking around, especially on the deck, and marvelling at the scenery around us and taking videos of the sea, small islands and mountains.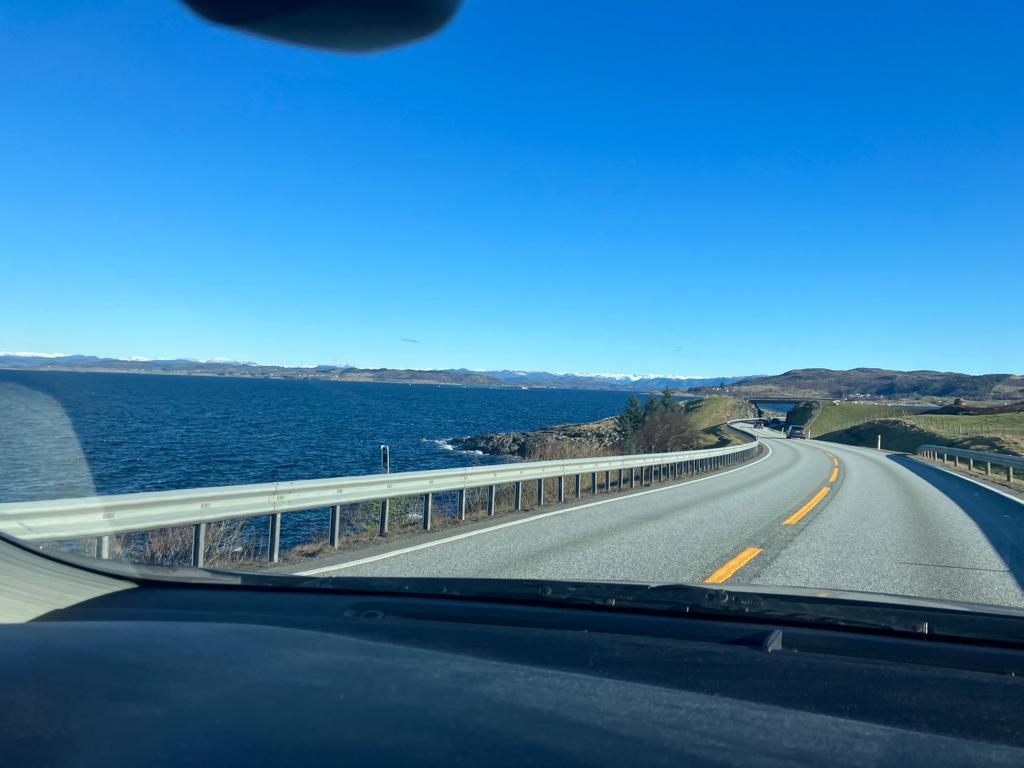 Arrival into Sandnes
Our destination was Sandnes (not sadness!) pronounced "san-nes" – a small town/city which lies immediately south of Stavanger (west of Norway). Thus, the two (Stavanger and Sandnes) are considered as one, and the third-largest urban area in Norway (after Oslo and Bergen). There are five mosques and prayer rooms in Sandnes, with Muslims predominantly hailing from Pakistan, Chechnya, and Arab and Eastern European (Bosnia, Albania, etc.) countries.
We passed by Stavanger and reached Sandnes around 2pm, and headed straight to the residence of brother Abdur-Rahman Hussain, where lunch had been organized. Abdur-Rahman has memorized the Qur'an (hāfiz) and is connected with the local mosque where my lecture had been organized in the evening. He is the brother of my dear friend, Shaykh Tehsin Abu Barirah (of Dewsbury, UK), whom I have known for many years. Shaykh Tehsin is originally from Norway – born and raised in Sandnes – but came to the UK in his teens. He studied and graduated as a scholar from the famous Islamic Seminary (markaz) in Dewsbury. He then returned to his hometown and served as an imam at his hometown of Sandnes for ten years. He regularly visited other cities for talks and lectures. The manner of his teaching/preaching, adorned with wisdom and balance, made him a much-liked and accepted figure, especially among the youth in Norway. He is well versed in both English and Norwegian (as well as Urdu and Arabic), and has translated some works and Islamic literature in to Norwegian. I met Shaykh Tehsin for the first time during one of my earlier trips to Norway some 12 years ago. However, some years ago, he moved to the UK. I always mention to him that his services are more needed in Norway than in the UK! Nevertheless, he regularly travels there and is still involved in the da'wa scene. May Allah accept his efforts. Āmīn.
His brother's (Abdur-Rahman) house is located in a very scenic part of Sandnes. As with most houses in Norway, his house and the neighbouring houses are built from wood, with slate tiles on the roof, and painted in bright colours. We performed Zuhr and, thereafter, ate lunch in the company of some local brothers who were invited by the host. After lunch, I was quickly escorted to my hotel, where I rested and freshened up for the program in the evening.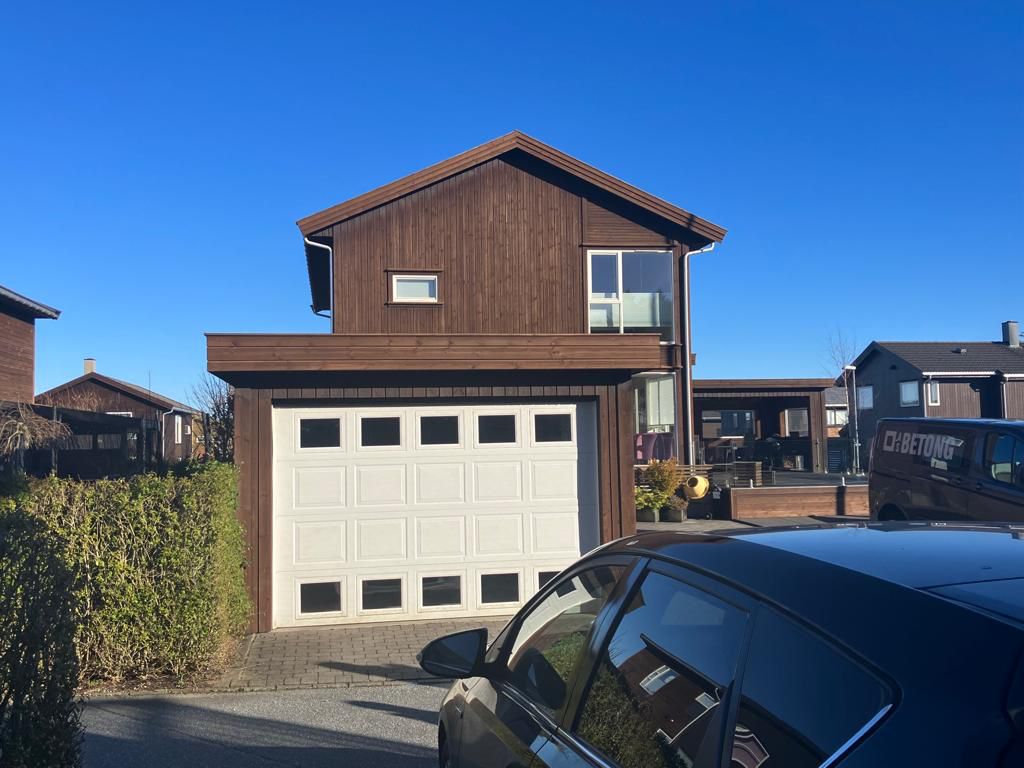 Evening Program at the Muslim Forum (Sandnes Mosque)
The evening program – in two parts – was held at the main Sandnes Mosque (Muslim Forum). Part one, between Maghrib and Eisha Prayers, was titled "Where to Acquire Knowledge from?" The mosque was relatively full with an audience that appeared very engaged and focused. I discussed the importance of seeking knowledge (ilm) from reliable sources and traditionally-trained Islamic scholars. Imam Ibn Sirīn (may Allah have mercy on him) said, "This matter is religion, so consider from whom you take your religion." I cautioned against taking Islamic knowledge from unknown and unreliable websites and social media such as TikTok and Instagram. I also explained the method of identifying reliable and expert scholars. The second part took place after Eisha, in which we discussed the concept of following fiqh madhabs (taqlīd) and related matters. An extended questions and answers session followed, with the audience asking questions to their fill, Al-Ḥamdulillāh. It was a great pleasure to meet the local brothers and, especially, the head imam of the mosque, Shaykh Abd al-Ghani Tawaf, who is of Yemeni origin. The imam attended the entire program and we spent some time talking and discussing various matters. He was elated when I informed him that I had visited Yemen in 2005. During our exchange, I found him to be a person of knowledge, wisdom and balance, and far away from polemics and disputes. May Allah accept his efforts. Āmīn.
Dinner was arranged at the residence of a local scholar and imam, Mawlana Mu'azzam, who studied and graduated in the UK. He went out of his way in preparing a delicious and healthy meal for us all. May Allah reward him and his family. Āmīn. After dinner, I returned to my hotel for much needed rest.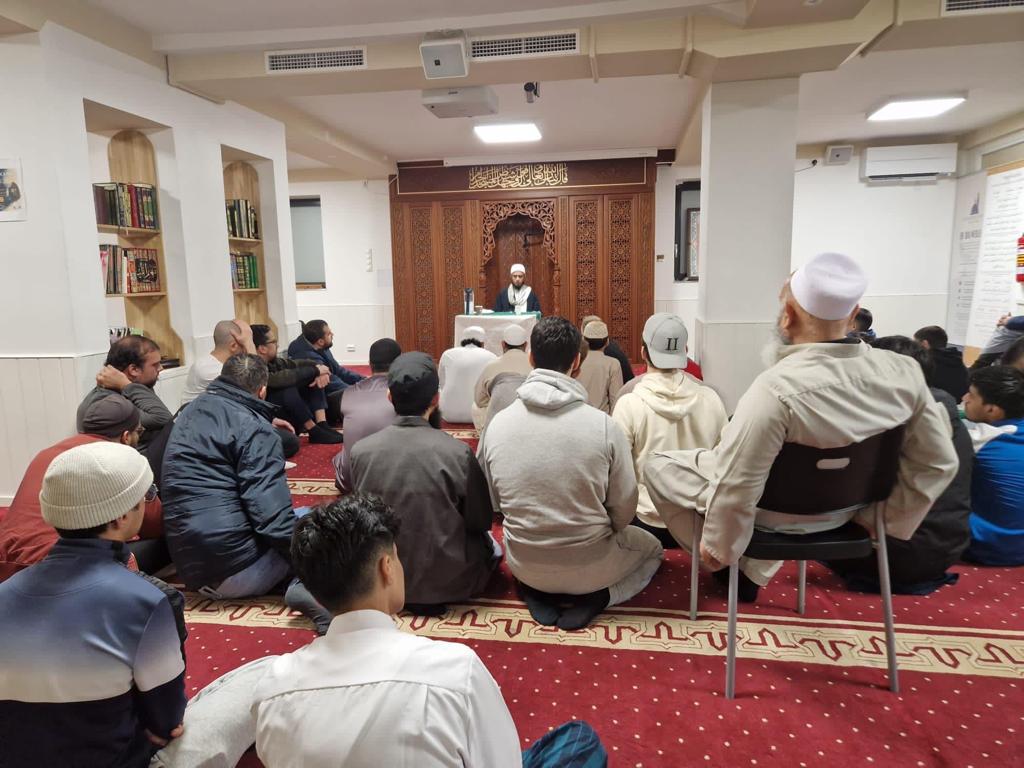 The following day (Sunday February 26, 2023), was my final day in Norway. After Fajr and breakfast at the hotel, I rested for a while. Thereafter, we made our way to the University of Stavanger where a lecture had been scheduled for 1pm. On the way, we stopped briefly at Hellestøstranden Beach – a beautiful sandy beach, located close to Stavanger International Airport in Sola. It was cold but the sun was out. We parked our cars and walked a little on the beach, breathing in the mid-morning freshness of the water and surroundings.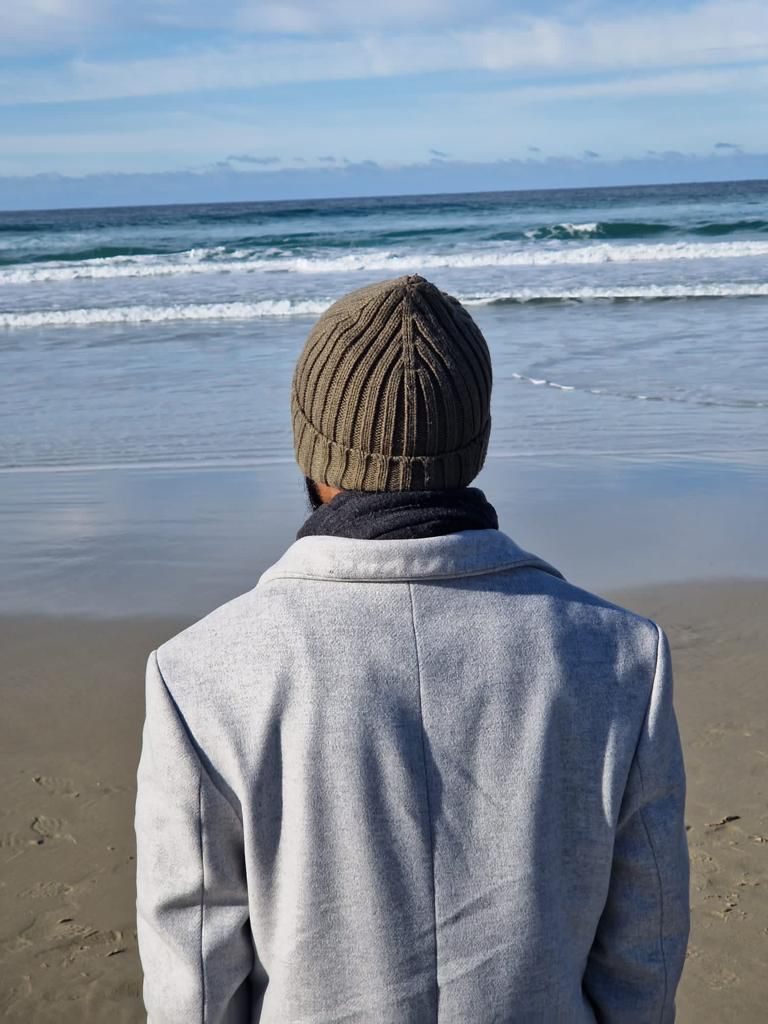 Stavanger
Stavanger is a beautiful city, located along the southwest coast of Norway and the fourth largest city in the country. The oil industry is a key industry operating in the city, and thus Stavanger and the surrounding areas are known as the Oil Capital of Norway. The city also hosts a number of higher education institutions, the largest being the University of Stavanger. There are several mosques in the city, with Muslims from diverse ethnic backgrounds residing here such as Pakistani, Turkish, Somalian and Arab. I was unable to visit any of the mosques in Stavanger. We reached the University of Stavanger around 1pm local time and first performed Zuhr prayers in congregation with some students who were already present. Despite being a Sunday, a sizeable audience, consisting of both male and female students, were in attendance. My lecture titled "Islam vs Other Ideologies/Modernism" was organized by the Muslim Student Society Stavanger (MSIS). I discussed, in approximately an hour, how Islam does not oppose modernity and technological advancement. However, the Divine teachings of the Qur'an and Sunna will always supersede any new idea, concept, or ism that may contradict it. We are the slaves of Allah Almighty and, thus, subservient to His commands – even if we do not understand their rational. The audience listened attentively, after which we had a short questions and answers session. Thereafter, lunch was prepared for everyone. May Allah bless all the brothers and sisters at the university who went out of their way in inviting me and for their hospitality. Āmīn.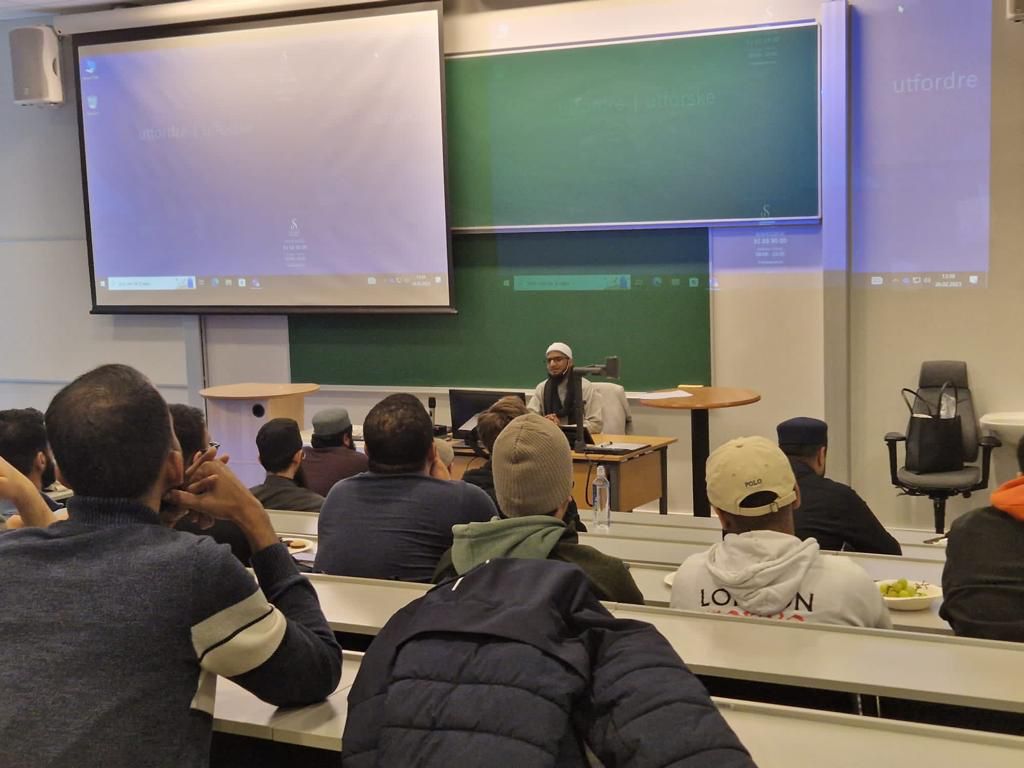 Since my return flight to the UK was around 6pm, after lunch and bidding farewell to the students, we quickly made our way to Stavanger Airport. Brothers Waqqas, Safwan, Shaykh Amān al-Haq (all of Oslo) escorted me to the airport. They also had to head back to Oslo after bidding me farewell. We reached the airport on time, Al-Ḥamdulillāh, and I departed for London Heathrow from Stavanger Airport, and returned home safely.
Final thoughts
As mentioned in the beginning of this article, I have been visiting Norway regularly since 2007; it is always a pleasure to visit this country. During these visits, I witnessed great zeal amongst the Muslims, especially the youth, in learning about Islam and increasing their knowledge. They listen to talks and lectures attentively and are eager to ask questions. As with most places, differences do exist between various groups, but – as per my experience – it is not as deep as in some other places. My policy has always been to try and unite the Muslims and encourage concentration on the wider issues that affect everyone. May Allah bring about goodness to the various Muslim communities residing in Oslo, Bergen, Sandnes, Stavanger, and other parts of Norway. Āmīn. I would like to once again thank all the brothers and sisters who helped make my visit possible and participated in arranging the various lectures. May Allah bless them all and grant the goodness of this life and the next. Āmīn. And the last of our prayers is: Praise be to Allah, the Lord of the worlds.
Muhammad ibn Adam al-Kawthari
15/05/2023